Rotorua offers a unique blend of natural wonders and Maori cultural experiences. Visit the geothermal hot springs and geysers, such as the famous Pohutu Geyser in Te Puia, to witness the captivating power of nature. Immerse yourself in Maori culture by attending a traditional cultural performance or visiting the Tamaki Maori Village, where you can learn about their history, customs, and enjoy a delicious Hangi feast. For outdoor enthusiasts, Rotorua offers a wide range of adventure activities like ziplining through the Redwoods Forest, mountain biking along scenic trails, or exploring the stunning lakes with water sports like kayaking and jet boating.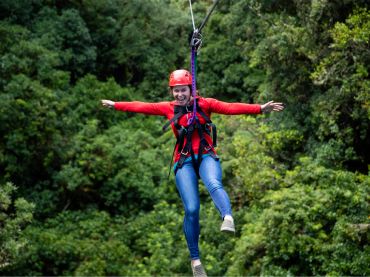 Rotorua Canopy Tours
This is the ONLY native forest zipline canopy tour in New Zealand and it is incredible – it's high, it's fun, it's beautiful, it's peaceful and you'll remember it for the rest of your life! And it's suitable for almost everyone! Embark on a magical journey through untouched native New Zealand forest from an unexplored perspective. High amongst ancient trees this 3-hour adventure combines fun and excitment with pristine natural beauty.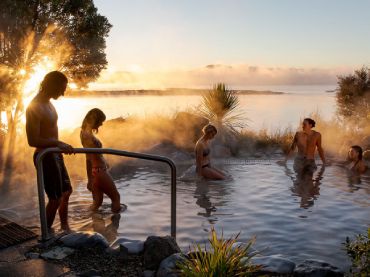 Polynesian Spa
New Zealand's leading international hot mineral spring spa. It is conveniently located in the Government Gardens in central Rotorua on a historic site overlooking Sulphur Bay on Lake Rotorua. The spa offers a choice of 31 hot mineral bathing pools, including an adults-only bathing area, private pools, a luxury spa and a family spa. The Lake Spa Retreat offers a comprehensive range of spa therapies and deluxe bathing in a luxurious private relaxation haven. Open 365 days from 6:30am—11pm. Discount vouchers available.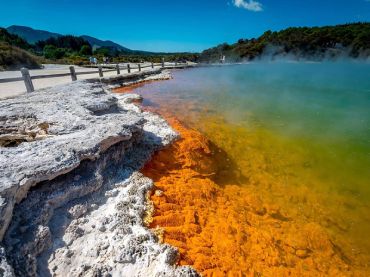 Wai-O-Tapu Thermal Wonderland
Located 20 minutes drive south of Rotorua on SH 5, a modern Visitor Centre provides the gateway to New Zealand's most colourful natural volcanic environment. Visitors walk at their own pace to absorb the unique features including the world-famous Champagne Pool, geysers, bubbling mud, steaming ground, expansive vistas, huge volcanic craters and sinter terrace formations. The natural bush setting adds another dimension to the experience, as does the Lady Knox Geyser erupting daily at 10.15am.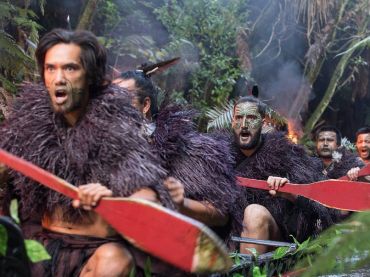 Mitai Maori Village
An evening at Mitai will give you an authentic introduction to Maori culture leaving you amazed and in awe. Enter the world of Mitai. Be enthralled by the natural bush setting, see warriors in traditional dress paddle an ancient warrior canoe (waka) down the Wai-o-whiro stream, and don't miss your only opportunity in the Rotorua area to see glow worms in their natural habitat. See your traditionally cooked hangi meal being lifted from the ground. During the cultural performance, you'll learn about our past, carvings and ta moko (tattoo art). Be captivated by the displays of weaponry and combat, coupled with the grace and beauty of the poi dance. You'll be amazed by the spine-tingling haka finale. The Mitai family is proud to have created a sacred and spiritual place that offers you an indigenous cultural experience like no other.
BOOK THROUGH US AND RECEIVE 15% DISCOUNT!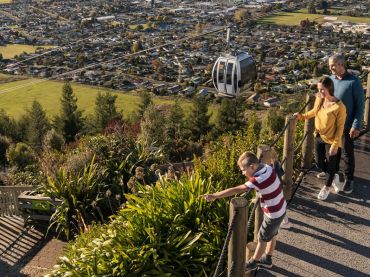 Skyline
The Skyline is a must-see attraction that offers breathtaking panoramic views of Rotorua and its surrounding natural wonders. Take a scenic gondola ride up to the top of Mount Ngongotaha, where the Skyline Rotorua complex is located. As you ascend, you'll be treated to stunning vistas of Lake Rotorua, lush forests, and geothermal activity. Once at the top, explore the Skyline Rotorua complex, which offers a range of thrilling activities such as luge rides down the mountain slopes, thrilling mountain bike trails, and a picturesque nature walk. Additionally, the Skyline Rotorua complex features a restaurant where you can enjoy a delicious meal while soaking in the incredible views. Whether it's during the day or at night when the city lights twinkle below, the Rotorua skyline offers an unforgettable experience for visitors.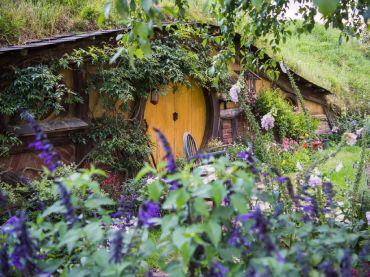 Hobbiton
Discover the real Middle-earth on the most picturesque private farmland near Matamata in the North Island of New Zealand, where you can visit the Hobbiton Movie Set from The Lord of the Rings and The Hobbit film trilogy in a fascinating two-hour guided tour. The set has been completely rebuilt and can be seen as it appeared in the films.
Daily tours from Rotorua.